Oct 6, 2021 12:53 PM Central
Erika Harston Noll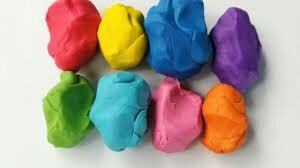 My kids love, love, love this stuff!!
I, however, have a love/hate relationship with it. I love how creative they get with it and how it keeps them occupied so I can get stuff done. I hate finding it ground into the carpet and spread everywhere! At one point, I had to put it away for awhile because the mess wasn't worth it.
If the mess was my only worry, that bright colored, commercial dough would have come back out sooner. But as I started to become more aware of ingredients in a lot of products on the market, I looked at the label. It said non toxic, but what did that really mean? Sure, if my kids ate some or played with it a long time, they wouldn't die from it, although it is clearly labeled not for consumption. But since the label had no ingredients on it (except for the allergy warning for wheat ingredients), I had no idea what was really in it. This should be illegal, in. my opinion. We deserve to know exactly what is in our products. I decided to dig deeper.
I had a lot of questions. I knew that the US allows companies to have trade secrets and not put everything on the label, which means it is pretty hard to find out the ingredients of the majority of products. Aside from making it so that no one can steal your recipe, would there be another reason not to be transparent about your ingredients? Maybe.
Here are some possible ingredients dug up from past patents:
Flour (starch based binder), salt, and water are no-brainers.
Retrogradation inhibitor (which keeps the dough soft longer).
Lubricant (reduces stickiness).
Surfactant (reduces stickiness by binding water and oil molecules)
Preservative (keeps it from going bad)
Hardener (makes it a little stiffer)
Humectant (adds moisture)
Most of these are very vague. No real information on what the actual ingredients are.
"According to another aspect of the invention, a starch-based modeling compound includes about 20% to about 50% water; about 5% to about 15% salt; about 2.0% to about 4.5% lubricant; about 0.2% to about 1.0% surfactant; about 30% to about 42% starch-based binder; about 0.1% to about 1% preservative; 0% to about 1% hardener; about 2% to about 10% retrogradation inhibitor; 0% to about 25% humectant; 0% to about 0.5% fragrance; and 0% to about 3.5% colorant. The salt can be selected from sodium chloride, calcium chloride, and potassium chloride. The lubricant can be selected from mineral spirits, mineral oil, and vegetable oil. The surfactant can be selected from polyethylene glycol esters of stearic acid, polyethylene glycol esters of lauric acid, ethoxylated alcohols, polyoxyethylenesorbitan monostearate (e.g., Tween® 60, ICI Americas, Inc., Wilmington, Del.), and polyoxyethylenesorbitan monolaurate (e.g., Tween® 20, ICI Americas, Inc., Wilmington, Del.). The surfactant is preferably hydrophilic, and can have an HLB (hydrophile lipophile balance) value of about 12 to about 15. The starch-based binder can be selected from wheat flour, rye flour, rice flour, tapioca flour, and combinations thereof. The preservative can be selected from calcium propionate, sodium benzoate, methyl paraben, ethyl paraben, butyl paraben, and borax. The hardener can be selected from sodium aluminum sulfate, potassium aluminum sulfate, aluminum ammonium sulfate, aluminum sulfate, and ammonium ferric sulfate. The retrogradation inhibitor can include amylopectin. The retrogradation inhibitor can be selected from waxy corn starch, waxy rice starch, and waxy potato starch. The modeling compound can also include an acidulant. The acidulant can be selected from citric acid, alum, and potassium dihydrogen sulfate. The modeling compound can have a pH of about 3.5 to about 4.5. The modeling compound can have a pH of about 3.8 to about 4.0. The humectant can be a glycol. The glycol can be glycerin or a low molecular weight polyethylene glycol."
EWG scores. Find these at EWG.org
Sodium chloride (table salt) - 1
PEG (polyethylene glycol)- listed in several specific forms - 1-3
Ethoxylated alcohols - listed in several specific forms - 1-3
Polyoxyethylenesorbitan monostearate (Polysorbate-60) - 1-3
Polyoxyethylenesorbitan monolaurate (Polysorbate-80) - 1-3
My blogs contain some affiliate links.
Any purchase made is a blessing to my family at no extra cost to you!
Thank you for supporting us!